Why choose GRAND?

1.GRAND Medical is a new merged medical manufacture, we are the manufacture, the former brand is YUDA. We are the largest medical manufacture in North China. We have 4 factories, 39 workshops, more than 200 workers.
2.GRAND Medical group is a famous leading brand in China, especially we are very strong on operating room equipment, like operating lamp, operating table and hospital furniture.
3.By using 10 years, Grand medical group producing the world leading dynamic holter ECG, and we are doing more better patient monitors with the USA engineers.
4.We only accept serious buyer. During Carona virus, Grand Medical Group produced surgical and medical face masks, face shields, UV air sterile machine and hospital beds, Grand and YUDA successfully joined MOH tenders in a large variety medical supply.

1. Pruduct Introduction
DST-700T Electro-hydraulic Comprehensive Operating Table
The design concept of combining modern and human nature is applied, and imported electric hydraulic transmission technology is adopted to follow the development trend of clinical surgery and meet the requirements of imaging observation and diagnosis in the current surgery. And it meets the requirements of modern cutting-edge surgery. The 480mm ultra-low bed position is the best choice for craniocerebral surgery/neurosurgery/ophthalmology/plastic surgery. The product has simple operation, strong versatility, wide application, selected materials, fine craftsmanship, and the quality has reached the international level.
This model of operating table is equipped with a cranial nerve head frame, which can carry out cranial neurosurgery's sitting craniotomy, prone craniotomy, supine craniotomy, etc., and perform fiber neurosurgery under the microscope; it can also carry out general surgery, heart, Kidney, extracorporeal circulation, thyroid, head and neck, gallbladder and thoracic cavity, urology, rectum, gynecology, orthopedics, spine and other surgical operations.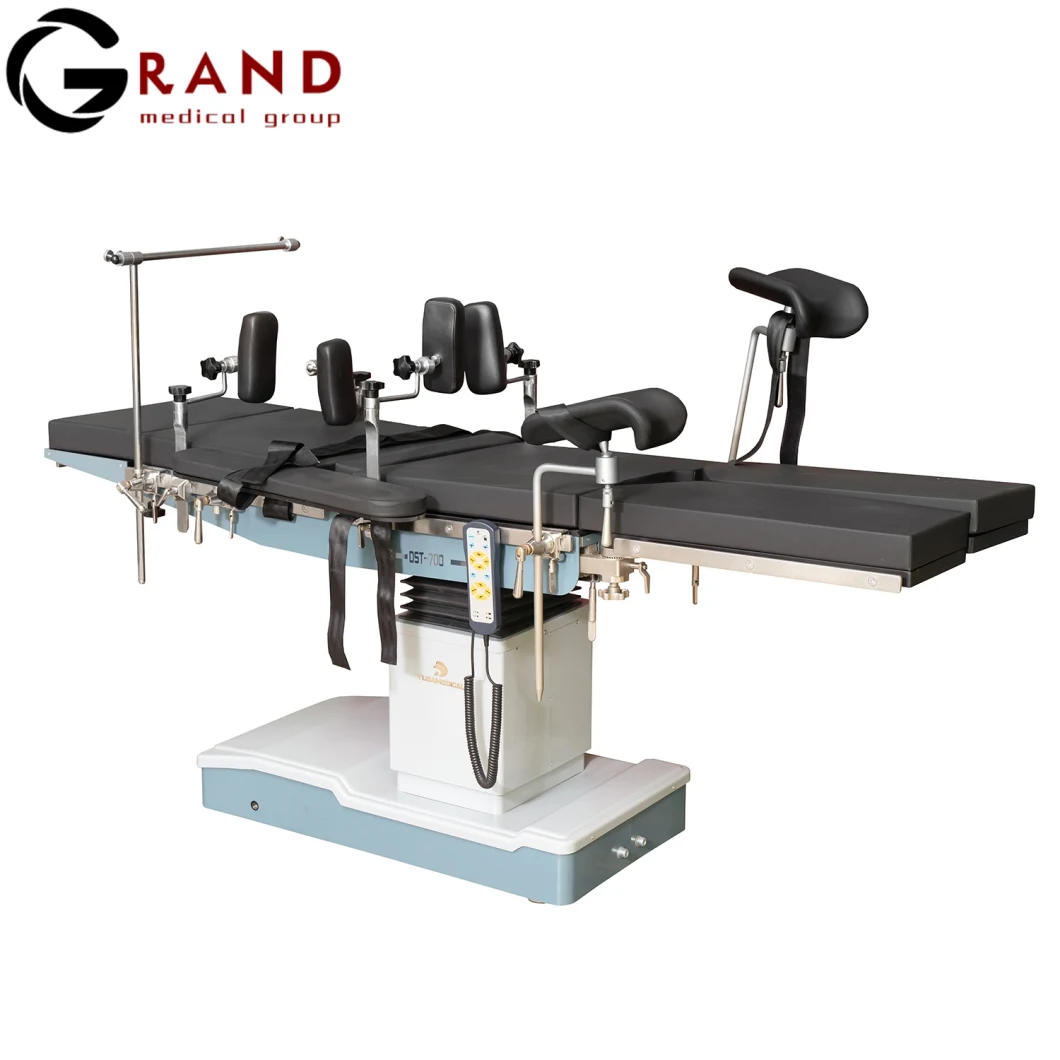 2. Main Features and Advantages

1) Electric hydraulic drive. The bed surface elevation, head and foot tilt, left and right tilt and backboard are all electrically adjusted. The movement speed is more uniform, stable, reliable, and durable.
2) The operating table can be set with two-way operation position mode, namely standard mode and reverse mode (head and foot reversal). Movement operations such as lifting, panning, head-foot tilting, left-right tilting, etc. are driven by an independent power system.
3) The bed panel is made of see-through material (the backboard is carbon fiber), and the electric horizontal movement stroke is 350mm, which provides accurate and convenient positioning space for the C-arm, and X-ray can be performed without moving the patient.
4) Mattress: made of integral sponge with high sealing degree and soft texture. Natural shaping, with memory recovery function, reducing local pressure. Seamless, waterproof, easy to clean, anti-static, detachable.
5) The bed surface frame and bed column shell of the operating table are made of high-quality nickel-chromium stainless alloy steel. It can be used for more than 15 years without rust. A guide rail is installed on the underside of the bed surface to transport X-ray film boxes.
6) The bed column shell and the base shell are made of 304 stainless steel, and are treated with anti-glare treatment to reduce eye fatigue of medical staff and facilitate cleaning and disinfection.
7) The base cover is made of special high-strength ABS material and adopts new coating technology. Paint does not fall, impact resistance, corrosion resistance, disinfection resistance, sturdiness and durability.
8) It has a variety of electric control methods: 1). Wired hand controller, electric adjustment function of 10 surgical positions and one-button level reset function. 2). Column emergency control panel. Two sets of systems operate independently to ensure that when one set fails, the other set can still operate reliably.
9) Imported high-precision linear guide rails ensure stable operation of the operating table.
10) The large-size casters with a diameter of 100 mm significantly improve the stability and mobility of the operating table. The central locking mechanism ensures that the operating table is firm and extremely reliable without taking up extra space under the bed.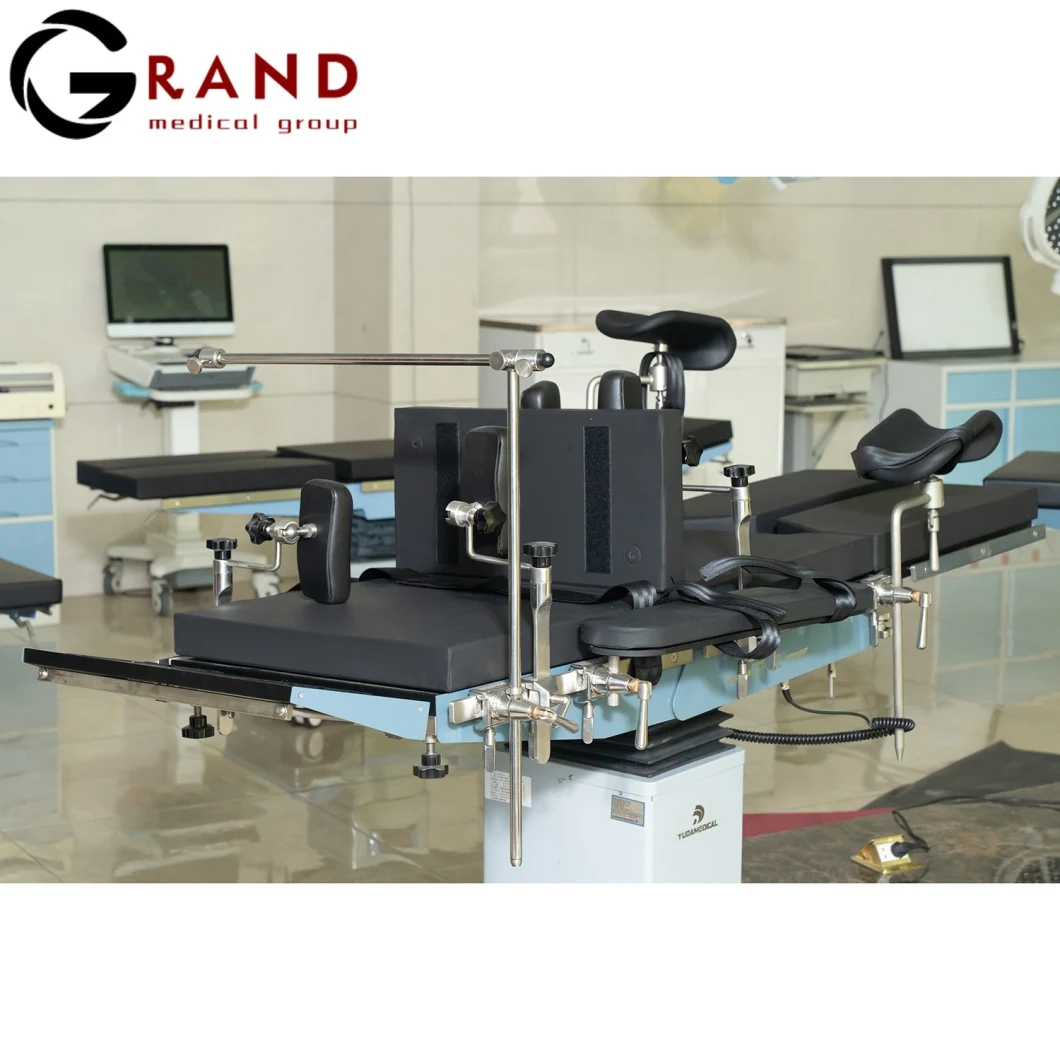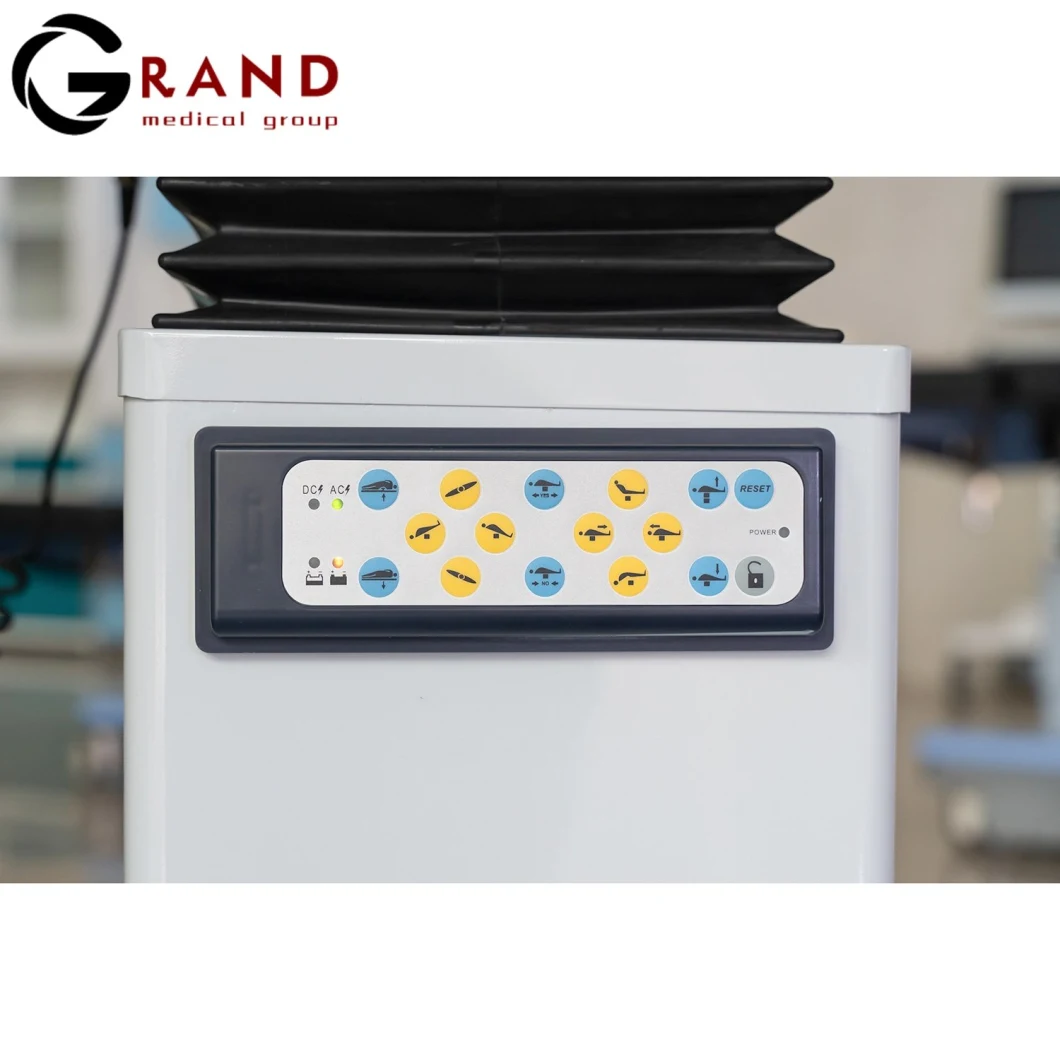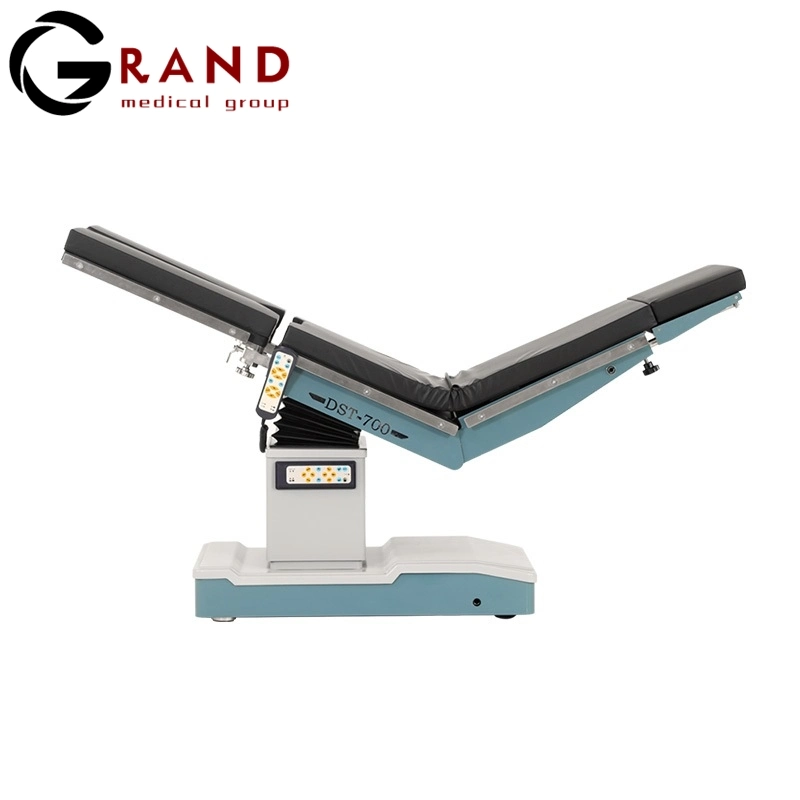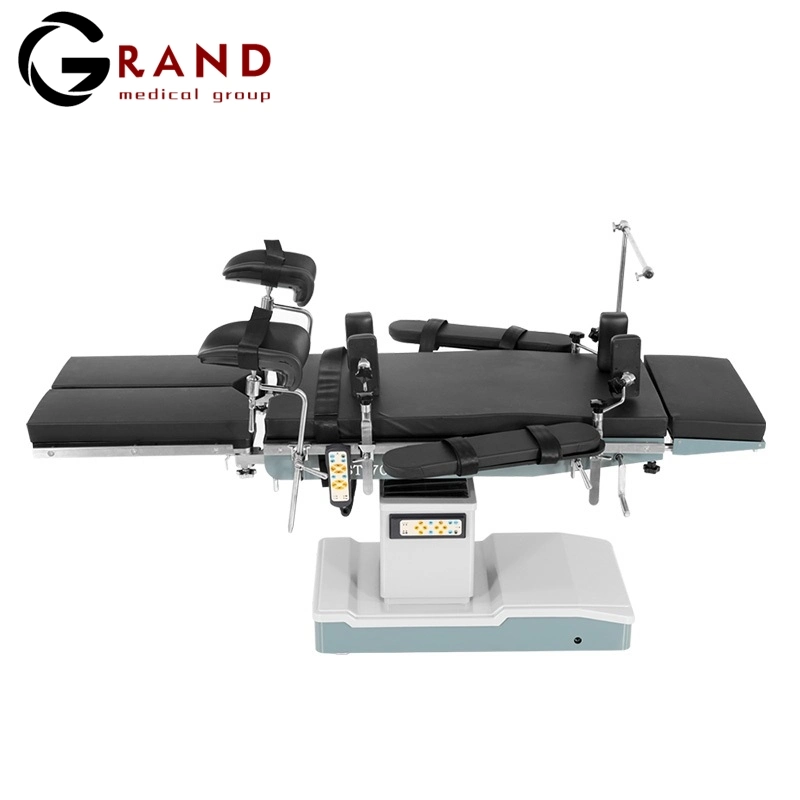 3. Main Technical Prameter
Item

Parameter

Bed panel size

(

2015

×

540

)±

10mm

Height from the bed surface to the ground (without cushion)

Minimum height: (480±20) mm




Maximum height: (820±20) mm




Lifting stroke

(340±20)mm (electric)




Longitudinal movement stroke of the bed surface

(350±20) mm (electric)

Head and foot tilt angle

Head tilt

:

20°±2° (electric)


Foot tilt: 20°±2° (electric)

Roll angle

left side: 18°±2° (electric)




Right side: 18°±2° (electric)

Folding angle of back panel

Fold up: 70°±2° (electric)




Fold down: 32°±2° (electric)

Folding angle of leg plate

Fold up: 28°±2°(manual)




Fold down: 90°±2° (manual)

Folding angle of head plate

Folding up: 30°±2°(manual)




Fold down: 90°±2° (manual)

X-ray attenuation coefficient of backboard

≤

0.76mmAL

Power supply

220V 50Hz 300VA

Net weight

About 300kg

Transportation and storage environment requirements

Temperature range

-15

ºC~

60

ºC(

5

°

F

~

158

°

F)

Humidity range (non-condensing)

10%

~

90%

Atmospheric pressure range

500hPa

~

1060hPa

Operating environment requirements

Temperature range

10

ºC~

40

ºC(

50

°

F

~

104

°

F)

Humidity range (non-condensing)

10%

~

90%

Atmospheric pressure range

500hPa

~

1060hPa
4. Application in Hospital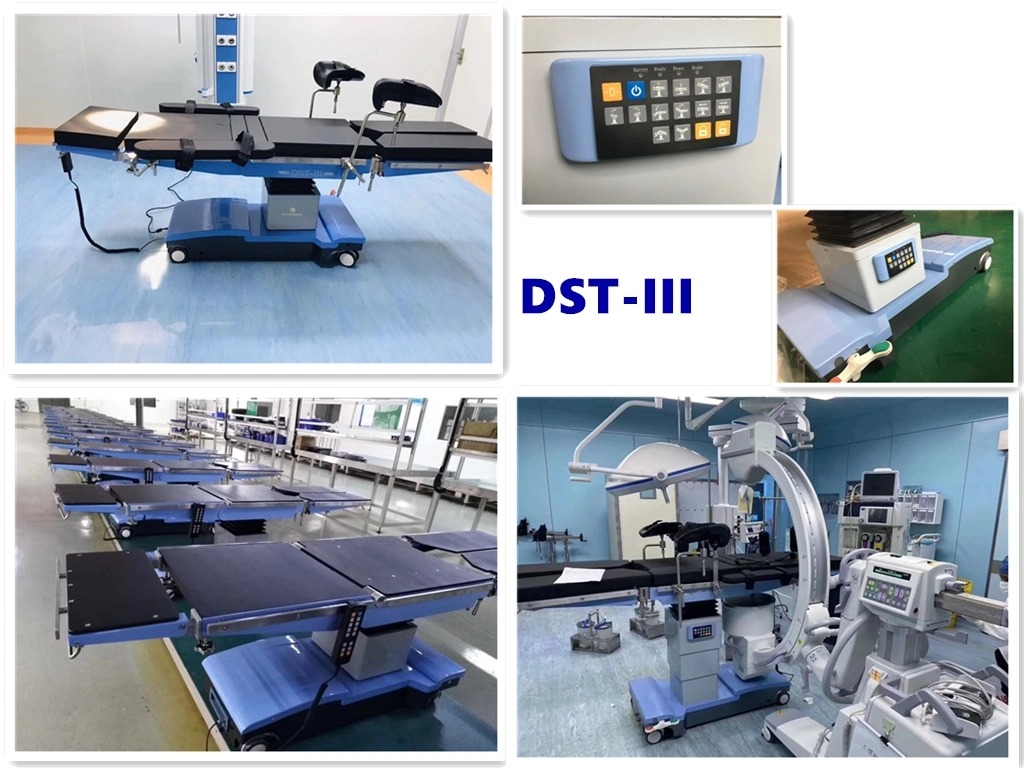 5.Certificate (ISO9001 CE FDA TUV)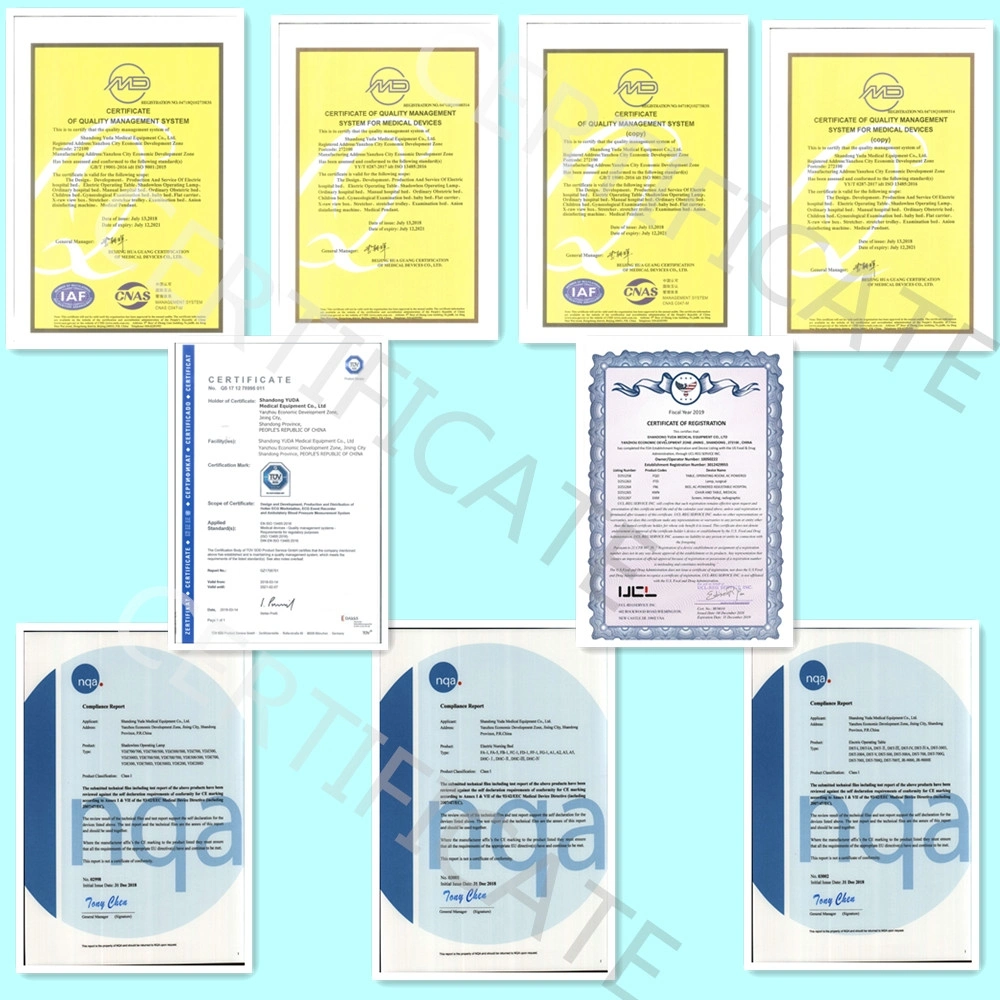 6. Company Strength
GRAND Medical Group is the merged medical manufacture, (former factory is YUDA), with the former factories (YUDA) and the third investment, Grand now is the largest medical manufacture in North China. GRAND are focused on the medical equipments, hospital furniture, surgical instruments and ICU monitor equipments production and technical research. We have 38 workshops, with more than 480, 000 square meters. The factory founded in 1992, started from hospital furniture, hence we accumulated rich medical industrial experience. We mainly produce surgical equipment, like: Operating lamp, operating table, and medical pendant, we also produce hospital furniture, like: Hospital bed and medical cart, medical trolley. And the third factories invested ICU equipment: ECG, monitor, anesthesia machine, ultrasound machine. In 2020 Antivirus, Grand put into production of surgical masks and air sterile machine. Grand Medical group produce different kinds of products. High quality and favorable price. We′re pleased to get your Inquiry and we will come back to as soon as possible. We stick to the principle of "quality first, service first, continuous improvement and innovation to meet the customers" for the management and "zero defect, zero complaints" as the quality objective. To perfect our service, we provide the products with good quality at the reasonable price.